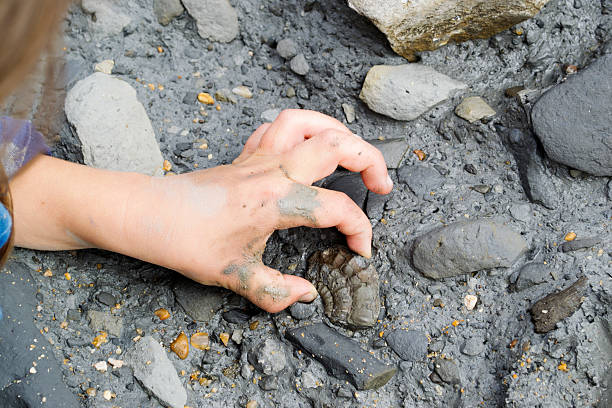 Lots of kids love dinosaurs and our Cub Scouts are no different. This is why Digging in the Past is the Wolf elective adventure, so cool. While they learn about how fossils form, Scouts are able to participate in exciting dinosaur-related activities, like this dino dig.
Wolf Elective Adventure Digging In the Past 3B. Make a dinosaur dig. As a paleontologist dig through the remains of a dinosaur discovered in a dig by another member. Explain how a paleontologist conducts digs.
Plaster of Paris is recommended for the fossil dig kit in the Wolf handbook. But most people don't have this just sitting around their house. I did some research to find out if there was another way.
Corn starch!
You can create a dino dig with only water and corn starch. It is likely that you have a bag of it lurking in the back of your pantry.
If you mix corn starch with water you'll end up with Oobleck.
While I did not have enough cornstarch, it was much easier to walk to the dollar store or grocery store to get some than to head to Home Depot to purchase Plaster of Paris. And it's cheaper too.
Supplies for DIY Dinosaur Dig activity
Corn starch
Water
Mix Bowl
Dinosaur toys and fossil skeletons
Container
The amount of corn starch that you'll need will be determined by the size of the container. I bought two 16 oz. I used about one-half of them to make the deep pie plate.
When I was shopping for free fossils items I stopped at Dollar General and Walgreen's. Both stores did not have any dinosaur toys or skeletons. I was searching for something like these.
The sale took place right after Halloween and Walgreen's had skeleton garlands for less than 80 percent. They aren't dinosaurs, but they're skeletons! The Scout is Thrifty, right?
Therefore, I actually have a human skeleton digging instead of a dinosaur dig.
Steps to Make the Dinosaur Dig
Remember, your Cub Scouts are expected to make the dig, so don't do this for them.
You can take Cub Scouts out to mix the oatmeal. Then you'll have to clean the corn starch off of the floor for a long time! Not that I had any personal experience with that.
Combine the corn starch and water in a large bowl. This will make the oobleck. To achieve the best texture, you'll require more than twice the amount of cornstarch to water.
For example, you could mix 3 cups of cornstarch with 1 1/2 cups of water. You may add more cornstarch if the mixture becomes too liquid.
Put the oobleck inside an container. The dinosaurs are buried in the oobleck, so that you aren't able to see them.
Your bones might not want to be buried forever, so you might need to push them back into the mixture. It is possible to let a few bones poke out from the mixture. But make sure they're submerged completely in the Oobleck.
Allow your container to dry out for at least one day. If it rains it's time to bring the container inside.
It will be obvious when the oobleck has hardened enough as you will start to notice cracks appearing in it.
You'll need to bring the entire container home if you are doing this as a den activity. This will ensure that everyone returns to the next meeting. It would be simple to carry them in a large compact box.
Scouts are required to excavate an excavation made by another member in the den. If you wish to ensure that nobody gets their own dig, have the Scouts sign their names on a masking tape and place it on the container. You can also randomly give digs.
Searching for Dinosaur Bones
Find some dinosaur digging tools. It is possible to let your kids play with their imaginations. But, you can also use household items such as toothpicks and paintbrushes to aid them. A lighter hammer can also be used. It is possible to invite your Cub Scouts bring their own digging tools from your home.
This hammer has been with us for quite some time. It was given to one of my boys at a Lowe's workshop for children. Unfortunately, it appears that Lowe's has discontinued this program.
This will get messy. The dust from corn starch will be all over. I highly recommend that you work outdoors. If you have a space with picnic tables, they are excellent to use.
Bring something to the Scouts. I used a pan however newspaper will work just as well. Place the newspaper on a table.
Make sure to turn the container upside down onto the work surface. Take the container off, and your digging tool should slide right out.
The dig might break up little bit, but that's okay. The Cub Scout can tap the dig lightly using a hammer to cause it to break apart if it doesn't.
Allow your Scouts to brush their way through the dried Oobleck. Make sure they know that if they spot a bone they must gently dig within it, then clean the corn starch debris using brushes.
Soon, they'll find the dinosaur's bones.